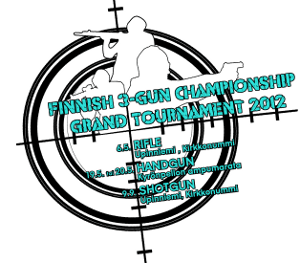 GT sponsors:
Finnish 3-gun Championship 2012
16.9.2012: Final GT results by category added.
9.9.2012: Final GT results after the last component match have been published. Thank you for participating!
28.5.2012: Intermediate GT results after the second component match have been published.
17.5.2012: Intermediate GT results after the first component match have been published. Check your division and teams! Contact Tournament Stats if you have any questions.
4.5.2012: GT shirts are available for pickup in the rifle match after all. Please bring exact change (20e), cash only. A few extra shirts are available as well, if you didn't remember to pre-order one.
2.5.2012: Super Senior categories will be combined to corresponding Senior categories due to less than 5 registrations per Super Senior category.
27.4.2012: GT shirt printing has been delayed, they won't be available for pickup at the rifle match. The shirts should be ready for pickup at the handgun match in Mikkeli.
IPSC level III Grand Tournament, about 29 stages and 400 rounds in total. This GT will be an official Finnish Championship tournament, but the component matches themselves are NOT Finnish Championship matches. Finnish Championships in each component discipline are organized separately.
Component main match dates and locations
rifle: May 6, 2012, Upinniemi, Kirkkonummi (PorkkA), 9 stages
handgun: May 19 or 20, 2012, Kyrönpellon ampumarata (Kyrönpellontie 1), Mikkeli (MA), 10 stages
shotgun: September 9, 2012, Upinniemi, Kirkkonummi (PorkkA), 10 stages
Prematches in rifle and shotgun are on Saturdays, on the day before main match. Handgun match can be shot on Saturday or on Sunday at your option (shoot all stages in one day). Please enter your squadding and handgun match shooting day requests on the registration form.
Further details on the component matches will be on component match specific pages later.
Registration procedure and priority
Competitor registration to the GT begins on Sunday March 11, 2012 at 20:00 Finnish time (UTC + 2 hours, see the link on the left menu). There is a total of 80 competitor slots in the GT main match. The first 60 competitor slots are allocated in the order of registration, the last 20 are initially reserved. The reserved slots will be filled on April 8 from those who have registered to the GT or rifle match waiting list by that time. The reserved slots are distributed based on standings on the Finnish IPSC ranking lists and the judgement of the GT organizers.
Normal registration to the GT will end on April 13, 2012. After that date, late registration will be available for a higher match fee, if there are slots left in the match.
Registering to a single component match only
Rifle: In addition to match/GT staff and GT competitors, the rifle match will accept on a case-by-case basis mainly those who are representing Finland in the European IPSC Rifle Championship 2012. All registrations to the rifle match will be put on hold until GT slots are distributed. Confirmations to those who are accepted into the rifle match will be sent separately via email. Use the same GT registration form to register to shoot the rifle match only, just remember to write in the comments box that your are going to participate in the rifle match only.
Handgun: The handgun match will also accept competitors that are not participating in the GT. Registration to the handgun match begins on April 15, 2012. Contact the handgun match organizers for more information.
Shotgun: See the match specific page.
Tournament divisions
In order to force competitors of each GT division to compete against each other in every discipline, the GT will only offer restricted divisions. Thus the GT divisions are the following (the same as in 2010 and 2011):
GT divisions

| GT division | Handgun | Shotgun | Rifle |
| --- | --- | --- | --- |
| "Open" | Open | Open | Open SA |
| "Practical" | Standard | Standard | Open SA |
| "Standard" | Standard | Standard | Standard SA |
| "Production" | Production | Standard Manual | Standard SA |
Tournament fees
Registration and payment of the personal Grand Tournament entry fee covers all three component matches as well as the GT. The GT team fee covers only the GT and is to be paid in cash at the first component match. Pre-registration (non-binding) of GT teams on the personal registration form is encouraged, however. All members (up to four persons) of a Finnish GT team must be representing the same shooting club because this is a Finnish Championship.
The tournament registration fee must be paid in full by Apri 13, 2012. All unpaid registrations will be considered cancelled the following week. The above applies only to those who have a confirmed match slot. Those who are on a possible waiting list will be notified via email, if they are accepted and the due date of the registration payment.
GT competitor fees
GT registration (–13.4.2012)
juniors and ladies
80 €
others
160 €
Late GT registration (14.4.2012–)
200 €
Team GT registration
50 €
The table below applies to those who shoot all three component matches and officiate in 1–3 matces. Team fees are the same for both officials and competitors. GT match officials, by default, shoot all component matches in the prematch, even if they don't work the main match the following day.
GT match official fees
Shoot and work all 3 matches
free
Shoot 3 matches and work 2 matches
free
Shoot 3 matches and work 1 match
juniors and ladies
40 €
others
80 €
Payment instructions
Register online to the Grand Tournament before paying any fees. When you get a confirmation of succesful registration and slot allocation to the GT, then pay the personal registration fee before the payment deadline (April 13, 2012). Personal GT registration fees must be paid to Porkkalan Ampujat bank account IBAN: FI26 1449 3000 1019 73, SWIFT/BIC: NDEAFIHH. When paying, remember to use your personal payment reference number, shown on the registered shooters list and on your registration confirmation email. Payments that don't include your payment reference number are considered donations to the GT organizers (thank you!). If you are paying for multiple shooters, you will need to make separate payments for every shooter. GT team registration fees are only accepted in cash at registration in the rifle match.
If a non-Finnish shooter wants to pay the registration fee in cash at the first component match, contact the stats director immediately after registering.
Received payments are updated regularly to the list of registered shooters. If, after registration, you find out you won't be able to participate in the GT, please let the stats director know about it, so we can free your slot to the next person on the waiting list. Paid registration fees are only returned due to medical reasons (a medical certificate is required), but a paid registration fee can be transferred to someone else participating in this GT.
Component match fees
Component match fees apply to those that don't shoot the whole tournament. Tournament shooters are given priority slots to all component matches. Teams may or may not be recognized in each component match. Payments related to component matches are handled directly by the club organizing the match, see the match specific pages.
Component match fees
Registration
juniors and ladies
35 €
others
70 €
Team registration
20 €
Arbitration fee
70 €
For more information about the GT, see the contact page.
Page last modified on Sunday, September 16th, 2012 at 17:09.